Greek Meal Plans – Spring 2023
If you are pledging a Sorority/Fraternity and would like to change your residential meal plan to one of the Greek meal plans listed here Greek Plans, please email us at dining@bsd.ufl.edu with your UFID#, attach a copy of your initiation bid, welcome letter/email, or financial statement and your new meal plan choice.  Your student account will be billed for usage on the current residential meal plan (the number of days the meal plan was active, multiplied by the daily rate of their chosen meal plan, plus any Flex used) and then you will be charged full price for your Greek plan.
If you chose a Greek meal plan in the fall, you will be enrolled in the same Greek plan for the spring semester.  No action is needed if you want to keep the same plan. If you would like to change to a different Greek plan or upgrade to a residential meal plan, please contact dining@bsd.ufl.edu before the grace period deadline.
If you were accepted into a sorority/fraternity in the fall but elected to keep your residential meal plan for the fall, you may select a Greek plan in the Spring before the grace period deadline. Contact dining@bsd.ufl.edu to request the change. If no action is taken, a residential meal plan holder will be automatically enrolled in the same plan from Fall 2022.
For all requests, include your UFID, your meal plan choice, and paperwork showing your affiliation with the Greek organization, i.e. bid, invitation, welcome email, invoice, etc.
Welcome to Greek Life at UF!
All Greek members are eligible for a campus meal plan that is accepted at all campus dining locations in addition to the meals provided through their fraternity or sorority. These plans are smaller than traditional on-campus plans because they are meant to supplement the meals provided by the organizations.
Greek students living on-campus are eligible for Greek-specific plans that are otherwise not available to campus residents.
---
Plan options include the following
Members Only
80 Swipes + 300 Flex
Avg. 6 meals/week
+$17 Flex /week for snacking
$880 Price per semester
The Greek
65 Swipes + 300 Flex
Avg. 4 meals/week
+ Avg. $17 Flex /week for snacking
$775 Price per semester
Dine + Connect
50 Swipes + 300 Flex
Avg. 3 meals/week
+ Avg. $17 Flex /week
$667 Price per semester
The Social-Light
30 Swipes + 300 Flex
Avg. 2 meals/week
+Avg. $17 Flex /week for snacking
$520 Price per semester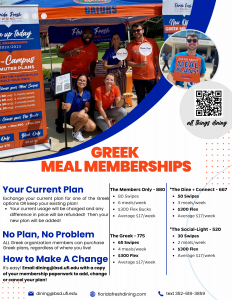 CONTACT US
For Meal Plan questions, contact the Florida Fresh Dining team by texting (352) 618-3859,  calling (352) 392-9787, or visiting
www.floridafreshdining.com
.
For concerns about your account, call Business Services at (352) 392-0306 or email
dining@bsd.ufl.edu
.