Operational Changes in Dining
Operational Changes in Dining
Gator Dining will continue to provide the UF community with a robust dining program while adhering to enhanced safety measures consistent with UF Health and state guidance related to COVID-19. The current plan includes reopening of facilities and adjusting hours of operation as needed, but in adherence to physical distancing and other safety guidelines. The Gator Dining team will monitor operations daily and stay abreast of any changes in guidelines or direction regarding COVID-19 and adjust campus operations accordingly. Fall 2020 meal plan pricing remains the same as Fall 2019 pricing.
Gator Dining will adjust operating procedures to meet or exceed recommended UF Health and state guidelines related to COVID-19, in order to provide safe dining spaces and programming for the UF community.
Gator Dining staff have rearranged seating in dining halls to accommodate for social distancing.  Seating will be available on a first come, first served basis. Students will be encouraged to maintain social distancing in addition to wearing a mask or face covering unless eating or drinking.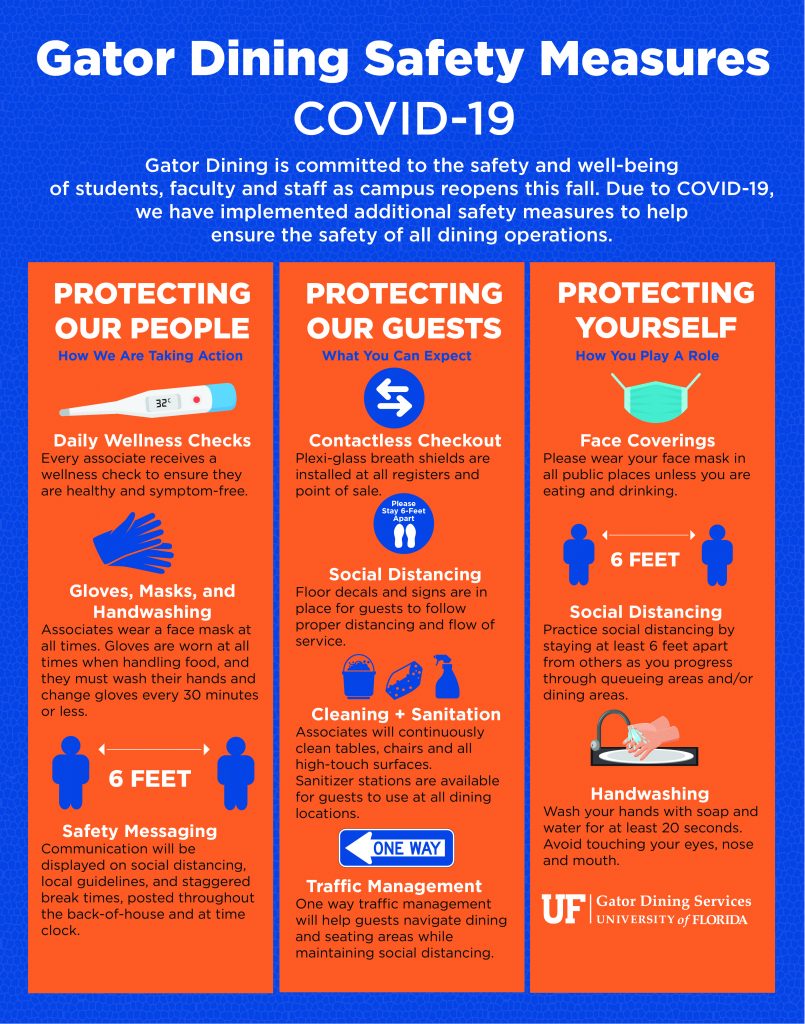 Operational Changes in Dining
All dining employees will go through a health screening and temperature check daily before starting their shift. An employee with a temperature above 100.4 degrees will be sent home and may not return to work until their temperature has subsided and they show no symptoms related to the COVID-19 virus. Any employee who does not meet the standards of the daily screening will not be allowed to work until able to meet the safety standards.
An individualized safety plan and documented procedures for each individual dining location based on type of service, layout of facility and proximity to other common areas.
Increased scheduled sanitation and disinfecting of all customer contact surfaces in all locations.
Installation of Plexiglas shields in cashier areas to provide protection for guests and employees.
Encouragement of physical distancing in all guest areas, via signage, floor decals and other means.
Elimination of self-service platforms in all locations; implementation of altered service style for select stations.
Temporary discontinuation of the use of reusable "to go" food containers and beverage cups.
Implementation of individual boxed or pre-packaged meals for most catered events.
Increased use of single-service items in all areas, which may include silverware, condiments, beverages, to-go packaging and more.
Enhanced "grab-n-go" options.
Gator Dining will adjust services as needed to meet the needs of the UF community and based on the guidelines and direction by UF Health and state authorities in place at the time.