Business Services works with you to navigate the details of your transition onto campus, helping you make the most of your college experience at UF!
Business Services coordinates with the GATORONE card office, Florida Fresh Dining, UF Bookstores, Wells Fargo, Transportation & Parking Services (TAPS), the Stephen C. O'Connell Center, and Pepsi and Canteen vending to simplify your on-campus experience so you can focus on your studies.
Be sure to familiarize yourself with our business partners, below, and learn about the services provided to support you and help you succeed at the outset of each semester.
Taken from above the shoulders
Facing upright & head straight
Eyes looking forward to the camera
Background needs to be solid with no items shown
A JPEG (.jpg) file at least 222 x 234 pixels
Please visit the GATORONE section to read more about the benefits that come with this ID card.
The University of Florida has over 45 food locations on campus, including two residential dining halls and favorite national brands such as Subway, Chick-fil-A, Einstein Bros Bagels, Panda Express, Pollo Tropical, Starbucks Coffee and Firehouse Subs.
Dining Services offers both Meal Plans and Declining Balance Accounts.  Both plans work off a magnetic strip on your GATORONE. Once a plan is purchased, the account will be automatically activated. All declining balances will carry over each semester enrolled.
To buy a meal plan, please visit our meal plan page.
Click here to add money to your declining balance.
For parents and spouses, click here to add value to your family member's card or to buy them a meal plan.

The University of Florida and Wells Fargo have teamed up to offer you optional banking convenience with your linked GATORONE. Use it as your official student ID, for campus privileges, and for your day-to-day financial needs on and off campus when it's linked to a Wells Fargo checking account, with two account options ideal for students.
Enjoy no-fee access to Wells Fargo ATMs nationwide, including the Wells Fargo ATMs on campus. Make purchases using your Personal Identification Number (PIN) with your linked GATORONE. Take advantage of this optional benefit today.
Visit wellsfargo.com/uf for more details.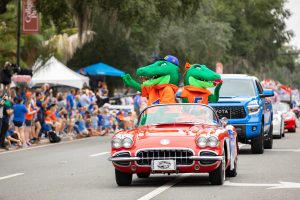 TAPS is committed to helping you explore all available transportation and parking options, so that you may make an informed decision that best meets your needs.
Please take advantage of the many alternative transportation opportunities that UF has to offer. Ride the RTS bus system on campus and throughout the City of Gainesville "fare-free" with your GATORONE, reduce pollution and energy consumption by biking or walking, get some wonderful exercise, and enjoy our beautiful campus along the way. Learn about Zipcar, SNAP, Gator Lift, Zimride, Campus Cab, and other programs designed to help you get around safely and effectively.
For your convenience, use parking@ufl.edu to order a parking decal, pay or appeal a parking citation, and send us your feedback. Thank you and we look forward to helping you find the best transportation option around campus for you and your needs.
The UF Bookstores are dedicated to assisting students with all of their campus needs. From textbooks to school supplies, and even computers and tablets, students can easily find any of their syllabus materials on campus. The UF Bookstore offers students many different options for acquiring textbooks.
The UF All Access Program allows students to access digital textbooks and coursework at lower costs than printed books. Students are also able to advance order their textbooks. Eligible students can even delay payment using the Bookstore Line of Credit. Students can also open a Gator Bucks account to purchase any supplies in the bookstore. There is always a price match guarantee with any book purchase.
If you would like more information on textbooks, course material or the latest technology, please visit the UF Bookstore.