The GATORONE is the official identification of the University of Florida. Whether you are a student, staff, faculty, retiree, spouse/domestic partner or a vendor, the GATORONE is essential for the UF community.
New students:
If attending a Preview session, follow the instructions for a Mobile GATORONE sent via email from Business Services.
If not attending Preview, new students can request their Mobile GATORONE only after registering for classes AND within two weeks of semester start date.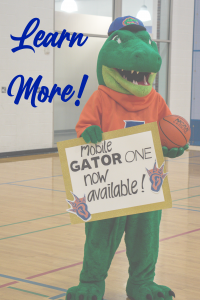 GATORONE holders can:
Ride the Regional Transit System (RTS) bus
Redeem Meal Plans, Flex, and/or Declining Balance at Florida Fresh Dining locations.
Access campus events or athletic activities
Receive a line of credit at the UF Bookstore
Transact business at the University Bursar
Utilize select recreational facilities or purchase an all-access RecSports membership.  For more information please contact UF RecSports.
Access authorized buildings
Present the GATORONE as identification
Access UF Library circulation privileges (application is required for retired faculty or staff)
Please email the GATORONE team at gator1card@bsd.ufl.edu or call 352-392-8343.