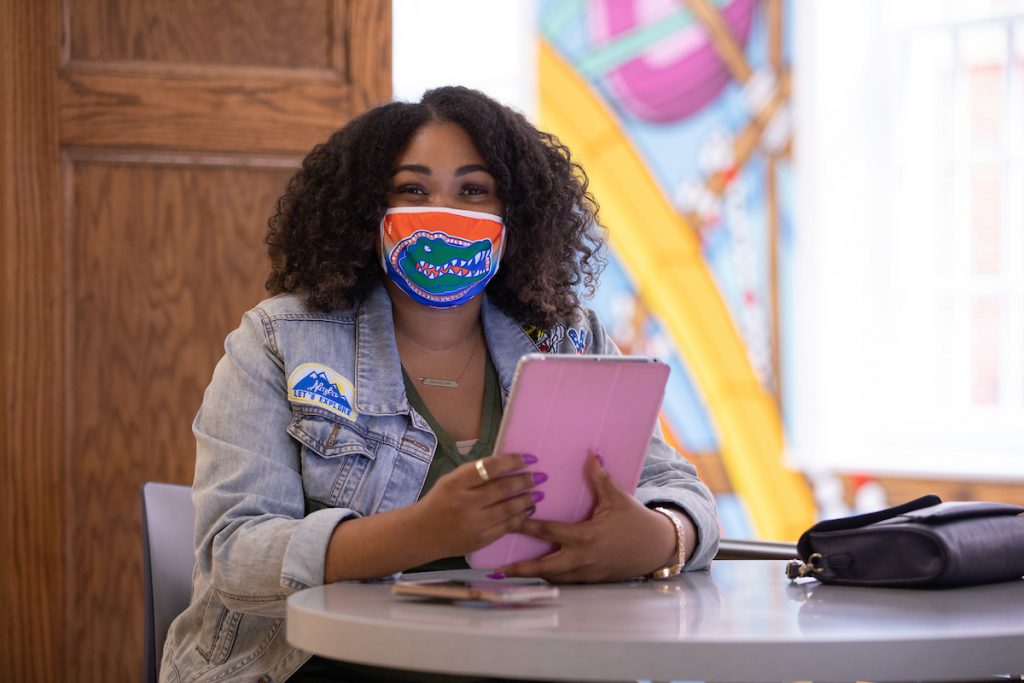 Gator 1 Card Procedures

Due to Covid-19 Pandemic, all Gator 1 Card requests for students are required to be submitted through the Gator 1 Card portal.  The issuance process for a Gator 1 Card can be expedited once an online Zoom interview has been scheduled.  In lieu of the Zoom interview, students are welcome to visit the Gator 1 Card office in person for processing to obtain their Gator 1 Card by the next business day.
In order to maintain a safe environment, photo capturing is restricted in the Gator 1 Card office at this time.  Images submitted online/electronically will be used to process Gator 1 Cards. We are located on the Mezzanine Level of the Bookstore and Welcome Center adjacent to the Reitz Union.
In order to obtain a card, official picture identification is required (Driver's License or Passport) and UFID number is needed. The cost is $15.00 and will be charged to the student account.
Students
Apply for your Gator 1 Card by completing the following steps: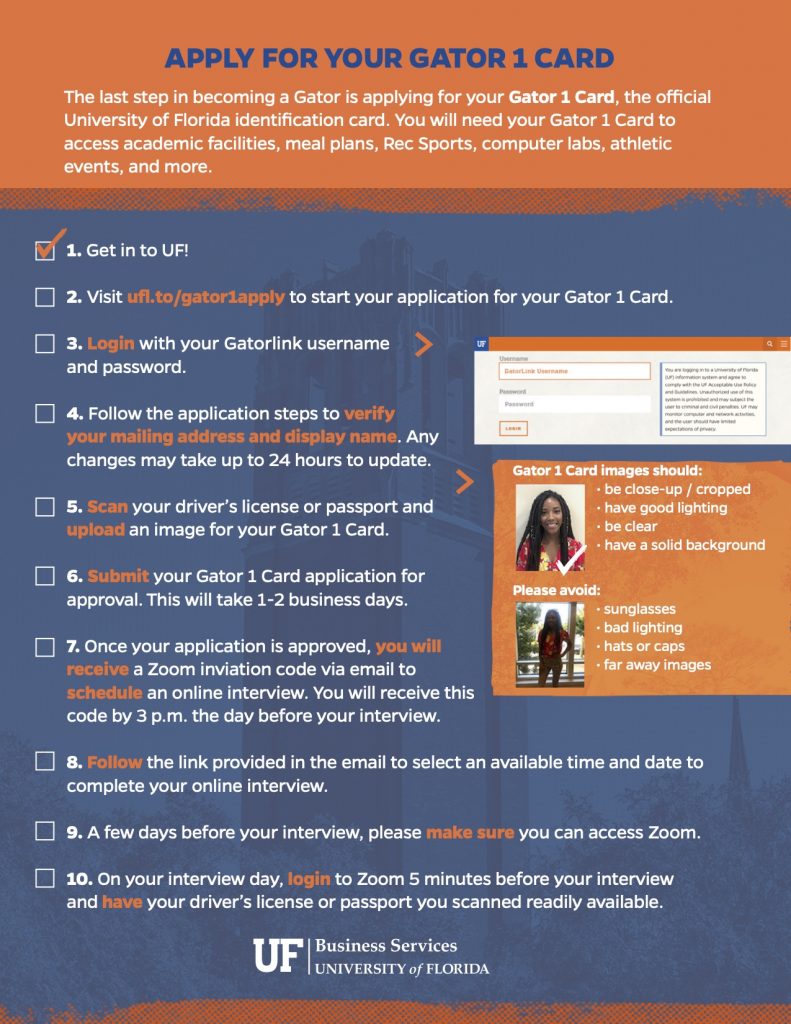 Students may apply online by visiting ufl.to/gator1apply.
Please email the Gator 1 Card team at gator1card@bsd.ufl.edu for other arrangements.
Faculty/Staff
Faculty and Staff are to work with their department's ID Card Authorizer to place a request for a Gator 1 Card. Please login to your Gator 1 account to authorize and follow the steps here. Please provide a photo to your department authorizer, and they will submit it with the Gator 1 Card request. The department authorizer can select where the card is sent. Either a campus PO Box or an off-campus address may be selected. Please email the Gator 1 Card team at gator1card@bsd.ufl.edu for other arrangements.
Vendors, Spouse/Partners, and Others
Please email the Gator 1 Card team at gator1card@bsd.ufl.edu or call 352-392-8343.
Gator 1 Card holders can:
Ride the Regional Transit System (RTS) bus service
Scan to eat at Gator Dining locations or use the Declining Balance option
Open and use a Campus Vending Account
Access campus events or athletic activities
Access UF Library circulation privileges
Defer textbook payments at the UF Bookstore
Turn the Gator 1 Card into a debit card if it is partnered with the Wells Fargo Every Day Checking Account
Transact business at the University Bursar
Utilize recreational facilities
Access authorized buildings
Present the Gator 1 Card as identification
Students, faculty, staff, retirees and spouses/domestic partners of UF students, faculty and staff, can purchase their Gator 1 Card for $15.00 at either of the Gator 1 Card office locations. Payment can be made with cash, check, or a credit card.