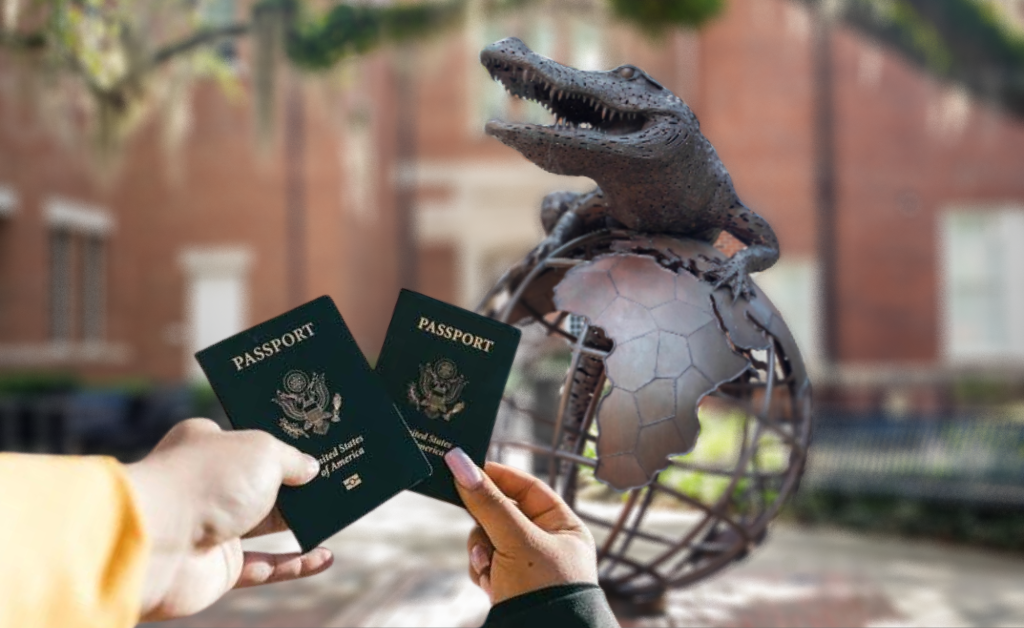 The UF Passport Office is accepting Passport Applications by Appointment Only, between 8:30 a.m. – 4:00 p.m., Monday – Friday. To schedule an appointment, please click the Book An Appointment button below.
UF Passport Services is a Passport Acceptance Facility for the U.S. Department of State.  Although the facility is located on the campus of the University of Florida, any U.S. citizen may obtain or renew their passport from this location, regardless of UF affiliation. Free, convenient parking is available and the office is also served by several RTS bus routes.
The current routine service time is 10 – 13 weeks and expedited services is 7 – 9 weeks for an extra $60.
*We offer Passport Photos Onsite!
($15.00 for 2 photos)
You must apply in person if:
You are applying for your first U.S. passport.
You are under the age of 16.
Your previous U.S. passport was issued when you were under the age of 16.
Your previous U.S. passport was lost, stolen, damaged or defaced.
Your previous U.S. passport was issued more than 15 years ago.
You can renew by mail if you meet all five of these requirements:
You have your passport in your possession to submit with your DS-82 application.
Your passport is undamaged (other than normal "wear and tear")
Your passport was issued when you were age 16 or older
Your passport was issued within the last 15 years
Your passport was issued in your current name or you can document your name change.
If you answered "NO" to any statement, you must apply in person. If you answered "YES" to all the statements, you can renew by mail and no appointment is necessary.
For Form DS-82 and additional renewal information, visit: travel.state.gov renewal page
For additional information, please contact the U. S. Department of State at
travel.state.gov