Staff Profiles
Meet Sylvia West, Postal Services Manager, Mail and Document Services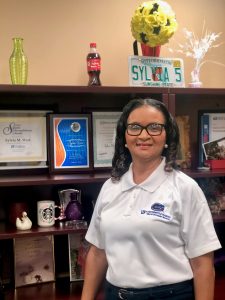 Sylvia West is a ray of happiness at the UF Radio Road mail facility, proving the process of scanning letters and packages is anything but boring. Ms. Sylvia, as she is affectionately known by coworkers, has worked at Bus­­iness Services for 30 years—28 of which were providing Mail Services to the UF Main campus and the Health Science Center. Through the years, she has learned the different components of Mail Services and has worked through every position from receiving and sorting incoming mail to delivering Amazon packages. Business Services celebrates Ms. Sylvia for exclusively working in the same department her entire career at the University of Florida.
Following her first two years with Transportation and Parking Services, Ms. Sylvia transitioned to a senior clerk position in the mail room of the Health Science Center. It was a quick rise to manager status. As Postal Services Manager, Ms. Sylvia now oversees 13 employees, including seven at the Radio Road location and six at the Health Science Center mail room. Her employees scan mail to students' dorms, staff and faculty departments, and delivery packages from USPS and Amazon. Ms. Sylvia's facility can also return Amazon packages as long as a prepaid mail slip is included on the package.
"There are times when a student will call asking about a package, and if I see it hasn't been delivered to them and my guys are already gone, I will jump in a car and deliver it even though I don't do deliveries anymore. I want to make sure we provide the best of service," Ms. Sylvia shared.
Ms. Sylvia is a member of the PCC—the Postal Customer Council. The PCC is a nationwide organization that provides resources, trainings and mail innovations for local postal offices. Ms. Sylvia stays updated on national mail regulations through PCC conventions and events in Gainesville.
"Sylvia is a joy to work with on a daily basis. You will not find a more dedicated employee or better leader on the UF campus. Even more importantly, Sylvia is a wonderful person who truly cares about her family and the UF community," said Jim Briscoe, associate director at Mail Services.
It's a bittersweet celebration knowing Ms. Sylvia will be retiring come 2023. Though the whole team at Business Services will miss her, she is ready to travel full-time. Already she has traveled to seven different countries and 10 different states. Ms. Sylvia also makes it a goal to vacation on a cruise with her family or friends at least once a year.
"I love what I do. I really do. I love my employees and the students. My job is to make sure everything runs smoothly. We have people call all the time and I try to accommodate where I can because customer service is the most important thing to me," she said. "If you take a task or position, do the best you can while you're in that position."
Meet Eddie Daniels, Assistant Vice President, Business Services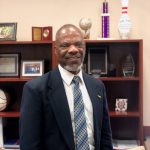 In 2005, Eddie Daniels became part of the UF family as executive director of J.W. Reitz Union. During his management, Mr. Daniels was heavily involved with student affairs such as overseeing student programming, special events and other student activities within the Reitz Union. As executive director, Mr. Daniels supervised the renovations seen throughout the student union.
Mr. Daniels transitioned to Business Services in 2018 with high expectations to further improve the office for the UF community.
Mr. Daniels is currently spearheading a food service master plan to enhance the on-campus dining experience. He would like to learn about the use of UF's on-campus dining facilities—or reasons for not using these facilities—to better meet the needs of future members of the Gator Nation.
This year, Mr. Daniels moved Preview inside the UF Bookstore so incoming Gators and their family members can better interact with UF's business partners. His goal was to create a more fulfilling experience during Preview for in-depth discussions about the different student services available.
Mr. Daniels firmly believes on constant improvement. He encourages students (and the entire UF community) to stay involved and keep rising to do better because there is always room for improvement.
Fun fact: Mr. Daniels has a Bachelor's degree in zoology and didn't think he would start a career in higher education after his undergraduate studies. Since Mr. Daniels isn't one to settle, he moved on to administration for his graduate studies. For these reasons, he encourages students to never settle and let their voices be heard. "If they aren't heard, then speak louder," Mr. Daniels said.
Meet Wilcley Lima, Associate Director, Business Services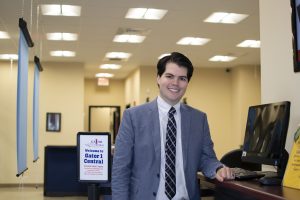 Wilcley came to Business Services in 2012 as a computer programmer. He is now the Associate Director where he oversees ID card services, the department's IT, and management of contracts including vending, food service, and the bookstore. Wilcley says that he likes to make people's life easier by solving challenging problems. In addition to working full-time, Wilcley is working on a PhD, researching ways to get clean energy from trash. An avid musician, Wilcley sings with the Gainesville Master Chorale, and plays piano at his church.