Meal Plan Program – Fall 2020
Meal Plan Program – Fall 2020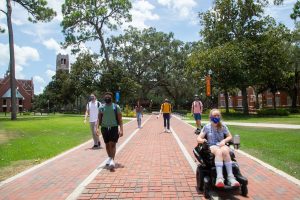 There have been many comments about the Gator Dining program this fall, especially around the offer at our two Resident Dining Hall locations, Fresh Food Company and Gator Corner.  In the past, these two locations were "all you care to eat" programs.  With COVID restrictions in place in Florida and at UF, the style of service has been altered to provide and maintain strict safety guidelines for the protection of your students and the UF community.
Each meal period at these two locations will offer a full-meal experience with multiple components to a meal.  For lunch and dinner, this will include a salad, soup or chili, entrée with a vegetable and starch, a vegan menu item, a handheld item (slice of pizza, stromboli, burger, chicken sandwich, wrap), fresh whole and cut fruit, dessert, and beverages.  There will be a daily pop-up offer to add some excitement and variety and have so far included sno-cones, ice cream novelties, fresh popcorn, cold brew coffee from our Starbuck's bike, and more.  If your student has any special dietary restrictions or allergies, Fresh Food Company offers the True Balance platform, offering menus items at each meal absent of 7 of the top 8 allergens.  Menus change daily and between each meal.  For students in a rush, starting Monday, each location will offer a grab and go bagged lunch option that can be picked up quickly while skipping the normal service lines.  Gator Dining is working to adjust menu portions to ensure a full meal experience at each station, while also supporting healthy nutritional goals.  If your student requests an extra portion, they will receive it.  Please understand the meal is set up to provide a full experience but is not set up to provide multiple meals solutions at one time.  If your student is eating in the unit, they can go back through the serving line for another helping of an item.  If they are leaving the location, they would need to utilize another meal swipe to reenter the building.  Gator Dining will do everything to make your student feel comfortable if they are requesting an extra portion or making a special request.  Students are encouraged to visit the Gator Dining webpage for that day's menus to help guide them in their daily decision making of where to eat.
If your student feels like they did not have the best experience at any time, please have them ask for the unit manager at any location to have that conversation.  We want them to be successful with their meal experiences ion campus.  And Gator Dining is committed to doing this.  They can also reach out to me with their experiences as well.  We want Gator Dining to support their success at UF and will strive to do that.
Matt Mueller
Director of Food and Beverage Services
Business Services
Division of Business Affairs
352-392-0306 Office
mmueller1@ufl.edu