From Florida Farms to Gator Tables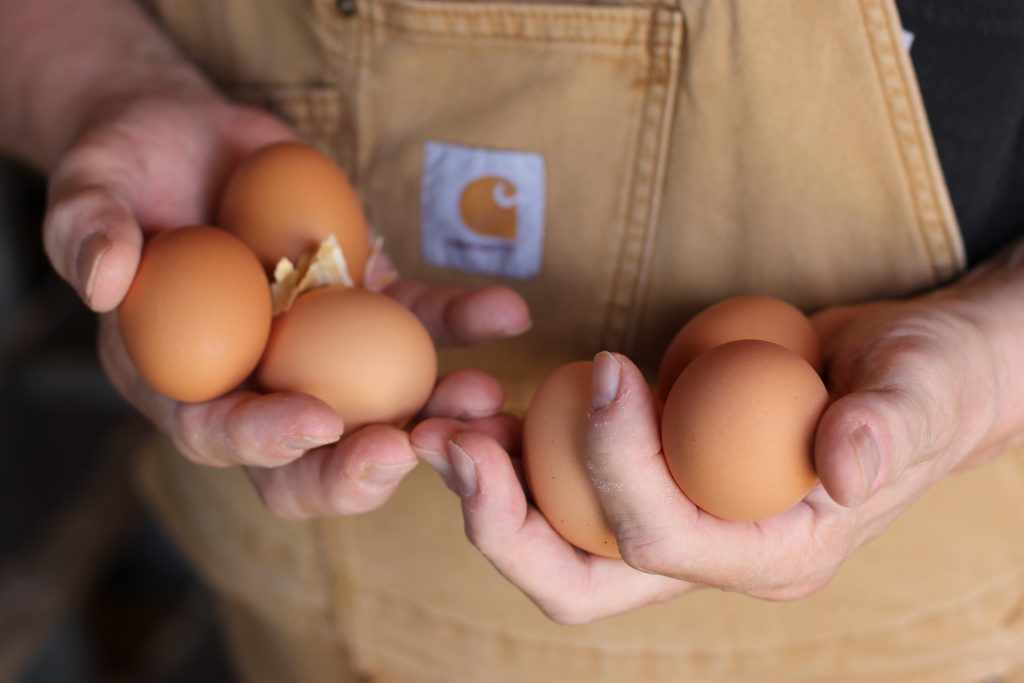 Dale Volkert, Owner and Farmer of Lake Meadow Naturals in Ocoee, FL, cradles cage-free eggs which may be sold to UF through The Villages Grown.
UF, Gator Dining, and Florida farmers are working together to put local food on campus tables
Turnips and radishes grown at Siembra Farm in southeast Gainesville may travel only 4.7 miles to Gator Corner. Varieties of lettuce grown at Traders Hill Farm in Hilliard, 87 miles north of campus, are harvested before sunrise and often served at Reitz Union before sunset.
The short distance from farm to table means crisp, fresh flavor. It also minimizes environmental impact.
When Tim Bucolo arrived in Gainesville in August of 2018 as the new Operations Manager of Gator Dining, he found campus menus lacking in one vital area­: "In a state with a year-round growing season, to not make use of the range of farm-fresh ingredients so close to campus was a missed opportunity" says Bucolo. He and his team started visiting local farms and building relationships with farmers to create meals that are more reflective of Florida's diverse flavors.
Now Gator Dining's Resident District Manager, Bucolo searches for authentic ways to incorporate ingredients grown closer to campus into Gator Dining menus. His efforts have been fruitful. As of publication, Gator Dining is working with 43 local farms and suppliers, and this number is growing.
"There are several reasons why sourcing our food locally is critical and something we're really focusing more on," says Matt Mueller, Director of Food & Beverage Services, UF Business Services. "We focus on flavor and nutrition and sustainability. What's interesting is, sustainability and taste are related in that the closer to home you purchase your food, the more sustainable an item is, and, frequently, the better it tastes."
"Our commitment to sustainability is deep," says Manny Santana, Produce Manager at Traders Hill. "It's in our mission statement. It's in everything we do."
Traders Hill supplies greenhouse grown Baby Pac Choi, Swiss chard, Butter and Romaine lettuces, spring mix, and frisée to Gator Dining. Traders Hill has also received a USDA grant to assist other local farmers by buying and selling their produce. Through Traders Hill, farms like Siembra Farm, Dasher Farm in McAlpin, and Long & Scott Farms in Mount Dora are able to supply UF with Florida onions, cabbage, lemons, kale, Brussels sprouts, sweet corn, and potatoes, which are served in dining halls, restaurants, and P.O.D. convenience markets across campus.
"We're able to help them sell what they grow, so these farmers can focus on growing," says Santana. "It's not a moneymaker for us, but it's more important that we succeed as a [farming] community."
"We're a small farm, so it's really cool to be able to have what we grow—like our sweet corn—served at UF," says Kirsten Rodriguez, Food Safety Manager at Long & Scott Farms, while tearing an ear of Zellwood Sweet Corn from the stalk. "Here, this is ready to eat right now," she says, as she rips away the husk. Biting in, it's the perfect balance of light, starchy, and sweet.
"You should taste it when it's cooked," Rodriguez says, laughing. "It's even better."
The Villages Grown in Sumter County, just 60 miles south of campus, has dramatically reduced its environmental footprint, growing up to five times more produce per acre than traditional agriculture and using 90% less water. "We're zero-waste," says Adam Wright, Operations Manager for The Villages Grown. "We grow more with less. We recycle nutrients. Nothing goes to waste."
The Villages Grown provides organic basil, parsley, chives, cilantro, kale, collards, and heirloom tomatoes to UF, which they often ship within two hours of harvesting.
"Many people don't realize not all tomatoes are red or know that they have different tastes," says Wright, as he hands over a golf-ball-size tomato, deep yellow in color, swollen and dense with powerful flavor. The arugula he plucks and offers as a sample is singular, starting with a flavor of fresh cracked pepper and finishing with bitter mustard.
"That's what vegetables are supposed to taste like," he says as he smiles. "But that flavor, it's more than just tasting good. That's valuable nutrients. Proper nutrition is necessary for good health. There's an educational component to what we do. That's an extension of what we grow."
Dale Volkert, Owner and Farmer of Lake Meadow Naturals in Ocoee, supplies organic eggs to UF through The Villages Grown. "The farming community is very collaborative," he says. "We share knowledge, we share resources."
That's as true for small farmers as it is for the fifth largest university in the country.
"Gator Dining," says Serena Sakkal, Sustainability Manager for Gator Dining, "should reflect UF's roots as Florida's land-grant university."
As one of two land grant universities in Florida, the University of Florida has been entrusted with advancing agriculture in the state through education, research, and resources. While Gator Dining may have only begun working with many of these farmers since shortly after Bucolo's arrival, several of these farmers have been working with the University for much longer, through the UF Institute of Food and Agricultural Sciences (UF/IFAS).
UF/IFAS has over 12 research facilities and 67 county Extension offices across Florida. The reach and scale of the agency makes access to critical knowledge and resources available to any farmer or grower in the state, regardless of size.
While UF/IFAS collaborates with a range of large farms on diverse challenges state-wide, nationally, and even internationally, they also work closely with small and local farmers, contributing to their successes in a variety of ways, such as helping farmers keep hens healthy, grow heartier tomatoes, and produce resilient lettuce crops. Notably, UF/IFAS is a leading collaborator in protecting Florida's citrus heritage and future, a growing concern for farmers across the state, on farms of any size.
For Gator Dining's part, they are helping Florida farmers not only grow crops, but businesses. Sakkal lists a number of Florida-grown menu items prepared at campus dining locations during the 2021 Spring semester:
Some farmers who collaborate with UF/IFAS to grow fresh, healthy produce and proteins to be served on campus are even UF alumni:
Matt McLean, a 4th generation Florida farmer, graduated from UF (B.A. in Business Administration, 1993), and is the founder of Uncle Matt's Organic, an organic juice company in Clermont, can now purchase some of his products at P.O.D. convenience market locations if he wishes.
Sarah Carte, a 5th generation Florida farmer, graduated from UF (B.A. in Agricultural Communication, 1994), and is General Manager at Dasher Farms, her family's farm in McAlpin. Dasher Farms supplies UF with various greens served on-campus. Carte is also on the Advisory Board for UF/IFAS's Center for Public Issues Education.
"We're proud of what we're able to do at Gator Dining to support the University's mission," says Sakkal. "It's Gators helping Gators, Gators feeding Gators."
Contact:
Kevin Danko
Business Services
Student Assistant
k.danko@ufl.edu