Redesigned GATOR ONE Cards Available Soon
For the first time in 20 years, a new, redesigned identification card will be available for the University of Florida community beginning Feb. 6. A single, universal card design will be issued for students, faculty and staff.
Along with a modern design, the new card will have both a magnetic stripe and contactless chip technology to enable faster, more secure transactions.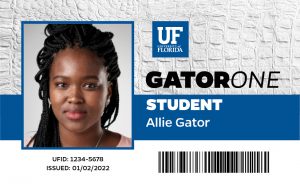 Unless contacted by GATORONE staff, upgrading to these cards is not an immediate requirement for students, faculty and staff, as existing cards will continue to work. But those who wish to enjoy the new card's expanded functions will have the opportunity to upgrade at no cost.
Those functions include contactless payments, which will be immediately available at UF dining, bookstore, and beverage vending locations, with plans for expansion to more campus locations this year. Future plans also include upgrading door readers to offer contactless access.
Additionally, UF's Business Services will launch a new user-friendly application portal for students, employees and vendors to submit their requests for new or replacement cards. Processing for spouse/partner cards will continue to be in-person only.
"I'm pleased to announce the release of our new GATORONE card, the next step in our efforts to modernize and add convenience to the way students, faculty, and staff perform transactions across campus," said Eddie Daniels, assistant vice president for Business Services. "Additionally, the introduction of enhanced features through the new card request portal will simplify the user experience."
Students and employees wishing to request an upgrade to the new GATORONE card may do so through the Business Services portal beginning Feb. 6. For all existing cardholders, the first card request in the portal is free.
For FAQs related to the card changes, visit the GATORONE website. If you have any questions, please contact info@bsd.ufl.edu.