UF and Chartwells Higher Education Introduce "Florida Fresh Dining"
Florida Fresh Dining has pledged to partner with local restaurants and to continue investing in local growers and producers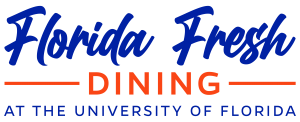 Charlotte, N.C., July 22, 2022 – The University of Florida (UF) and Chartwells Higher Education announced today the launch of the university's new dining brand, Florida Fresh Dining.  With a focus on local partnership and purchasing, the brand will look to engage the campus community through innovative cuisine, farm-to-table education, and quality service.
Florida Fresh Dining plans to increase the amount reinvested into local businesses year-over-year. UF and Chartwells believe these local collaborations will reinvent the on-campus dining experience, engage and serve students in innovative and meaningful ways, and establish relationships with Gainesville businesses to help reach new audiences.
"We believe that creating a stronger bridge between the University of Florida and the local community will foster an enhanced relationship between students and business owners," said Eddie Daniels, Assistant Vice President, Business Services. "With the flexibility of Chartwells' dining services, we're able to spotlight local flavors and businesses to expand the Gator community. We look forward to what the coming years with Chartwells will bring."
Florida Fresh Dining will prioritize purchasing products from Alachua County, followed by the surrounding Central Florida areas, the state of Florida, and within 250 miles of Gainesville. Locally purchased items will cover a wide range of products from local purveyors, producers, and farmers to even use local services. By establishing relationships with locally owned businesses, UF and Chartwells are creating community through immersive food experiences.
Featured programs include the newly re-branded "Taste of Gainesville," location in the Reitz Union.  This concept will showcase two local partners each day with a variety of legacy favorites and new partners in rotation.  Featured partners during the summer include Fat G's BBQ, Mi Apá Latin Café, Chef JJ, Gator Kosher, and Big Island Bowls.
"Supporting local businesses in the communities we serve is central to Chartwells' mission. We believe that food can bring people and communities together in unimaginable ways," said Nelson Defigueiredo, East Division President for Chartwells Higher Education. "Community investment is a pillar of the new Florida Fresh brand and we look forward to doing so throughout our partnership with UF."
Chartwells began operations at UF June 18, 2022. To learn more, visit floridafreshdining.com.
About the University of Florida
The University of Florida attracts the best and brightest students, staff, and faculty, places them together, and connects them with world-class resources to spark extraordinary discoveries and innovations. Our momentum is reflected in the university's designation as a top-five public university in the 2022 U.S. News & World Report Best Colleges rankings. Artificial intelligence is a centerpiece at UF, spanning all disciplines so that every student has the opportunity to acquire competence and expertise in AI. This is a place where limitless potential meets boundless opportunity through our teaching, research, scholarship and service to our state, our nation, and the world.
About Chartwells Higher Education
Chartwells is the recognized leader in contract food service management, hospitality, and award-winning guest service within over 300 college and university dining environments throughout academic institutions across the U.S. Chartwells' nutritious cuisine not only satisfies the unique appetites, lifestyles, and dietary needs of every guest dining on campus, but it also brings people together to promote the high-intensity relationships that will prepare students for the future. For more information, visit www.ChartwellsHigherEd.com, www.ChartwellsMonthly.com, www.DineonCampus.com.
Media Contact:
Morgan Mantell, Chartwells Higher Education
Morgan.mantell@compass-usa.com