New $5 Fee Helps UF Transition to Modern GATOR ONE Card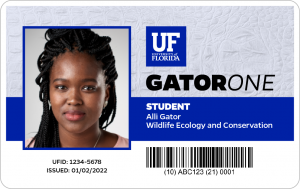 The University of Florida's official identification card will undergo its first redesign in nearly 20 years.  
The look of GATOR ONE cards — which are issued to students, faculty and staff, in addition to vendors who frequent campus — will be updated to better align with the university's latest branding and logos. Additionally, the new cards will be part of a larger effort to overhaul the way the cards are used on campus. The transition begins this Fall 2022 semester.  
The new cards will offer modern functionalities, such as contactless payments. Also, a new management portal and smartphone app will allow users to add funds, view balances, and activate or deactivate the card's status; changes made to student meal plans will be reflected on the GATOR ONE card within 15 minutes.   
In addition to contactless payments, the new system creates a pathway to offer in the coming year a digital ID or 'mobile credentials" feature, which will allow for the usage of a mobile device instead of a physical badge.  
Gator Bucks — a new account used by students for purchases at the UF Bookstore and vending machines —will transition to be managed through the new GATOR ONE portal. When used at campus vending machines for snacks and beverages, a 20% discount will be applied to purchases. 
"The improvements we're making to the GATOR ONE program are significant and will be realized very quickly by our students," said Eddie Daniels, Assistant Vice President for Business Services.  "Students shared their interest in digital IDs/mobile credentials accessible from a smartphone, and we're thrilled to announce that we will soon have the infrastructure to provide that service." 
To support the technology enabling this transition and to sustain future operations and enhancements in card services, the university is enacting a new $10 annual fee for all students enrolled in for-credit courses that will be split into two $5 payments during each fall and spring semester. Future proposed enhancements include transitioning to systems that will provide contactless access to facilities around campus.  
The fee for the Fall 2022 semester will post to students' ONE.UF account on Sept. 6. The cost of future replacement cards will remain at $15 for all students.  
Current cards will continue to be functional for access to campus facilities and services and the Gainesville Regional Transit System (RTS). However, once the new card is available later this Fall, students wishing to turn in their current GATOR ONE card for the upgraded card can do so at the GATOR ONE Card Office at the UF Bookstore and Welcome Center.   
The university intends to transition faculty, staff and vendors to new cards at a later date. UF will regularly provide updates regarding the changes and services provided through GATOR ONE.  
For FAQs related to the GATOR ONE changes for students, please visit the GATOR ONE website.