Gatorsgiving Theme Meal Served Up More Than Just Food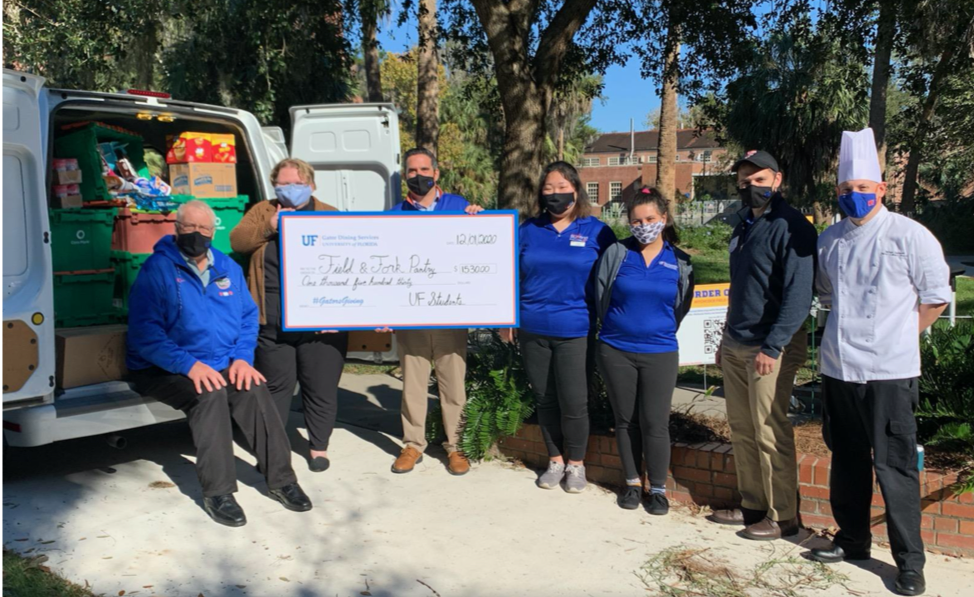 GAINESVILLE, FL— In the season of giving, it takes a little more creativity during a worldwide pandemic to support and give back to the community. Gator Dining at the University of Florida wanted to provide a safe and easy way for the students to give back – and raised $1,530 for the Alan and Cathy Hitchcock Field & Fork Pantry on campus.
At the recent Gatorsgiving theme meal event at Gator Corner Dining Center, students were provided an opportunity to donate either $5 or $10 from their meal plan accounts. This was an easy transaction at the register – and Gator Dining employees found that when it's accessible and easy – it's successful.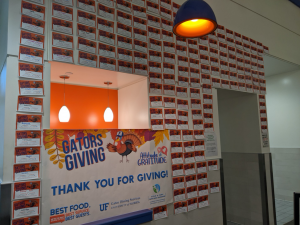 "We had 199 students donate during a three-hour period," said Tim Bucolo, Director of Dining for Gator Dining Services. "That was more than half of our total diners for the night, and we are so proud of the UF students for thinking of others and being grateful."
As well as the monetary donation from the students, Gator Dining donated over $5,000 in non-perishable food and snacks to the pantry.
"We are very grateful to Gator Dining for encouraging and matching donations from students, as well as their continuous support for the Pantry," said Brittani Trimble, Pantry Operations Coordinator. Trimble also noted that the total food donation was 778.5 pounds.
As the semester winds down, Gator Dining will continue its pantry donations with non-perishable items from the convenience store locations. The partnership will be ongoing with the Field and Fork Pantry.
"We want to make sure we are taking care of the UF Family first and foremost," said Bucolo. "This is our home, and we are here to provide a safe and nourishing environment for everyone on campus."
###