Florida Fresh Dining introduces New Food Concepts, New Technology and Mobile Ordering at UF
Big changes are underway for those who eat on campus at the University of Florida, as Florida Fresh Dining continues its expansion.
Gainesville, FL, October 10, 2022 – Over the summer, the University of Florida (UF) and their new food service provider, Chartwells Higher Education, introduced "Florida Fresh Dining," bringing local food concepts to campus while refreshing dining locations and making the "Taste of Gainesville" a permanent fixture in the Reitz Union. Now, Florida Fresh Dining is looking to introduce free-standing ordering kiosks and expand its mobile ordering app to increase speed-of-service.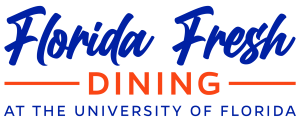 "We are excited about the changes that have already come to be, and those that are coming soon," said Matt Mueller, Director of Food and Beverage Services at UF.  "We want to thank the campus community for their patience and for understanding that all changes cannot be made overnight and can cause some service disruptions," he added. "We've had a great start to the Fall semester and look forward to experiencing great food, service, and innovative concepts as part of the Florida Fresh Dining program for many years to come."
The options to order food at select locations through a mobile app and soon-to-come kiosks are the result of a partnership of Chartwells Higher Education and UF's Business Services with Transact Mobile. The application allows users to browse the menus of participating restaurants, order, pay through a credit or campus card, or even through a student's meal plan, and pick up a meal without waiting in line.
Additionally, meal plan prices held steady while Florida Fresh Dining expanded value and options. Retail meal swipes now offer meal plan holders a complete combo meal, giving swipes more value than the previous $6.50 in cash equivalency. This option has been expanded to over 20 campus locations.
Meanwhile, The Eatery at Broward Hall opened with a fresh new look this fall. The Food Hall at Gator Corner saw dramatic aesthetic changes to both the serving and seating spaces. New equipment has been added to each dining hall in an effort to increase variety, quality and authenticity in the meals served.
Technology was introduced in both dining halls to better communicate menu offerings, ingredients and nutritional information to students. Pure Eats stations are available, giving students access to meals "made without" the top nine major allergens. These options, along with customized meal solutions, ensure a safe dining experience for all Gators.
Furthermore, Fat G's BBQ, Gator Kosher, Chef JJ Creations and Big Island Bowls continue to serve as part of the "Taste of Gainesville" rotating restaurant roster. At the start of the Fall semester, Burger 352 opened to enthusiastic reviews, with students loving the flavors of their signature, fresh from Florida, datil pepper sauce.  Additionally, Mi Apá Latin Café, Gainesville's Cuban staple, was introduced, while Arredondo Café.
Meanwhile, at Newell Hall, SweetBerries replaced Au Bon Pain and Opus Coffee replaced Starbucks at Norman Hall, continuing the growth of local favorites on campus.  At the Health Science Center, Salad Creations was replaced by "create," a build-your-own salad and wrap concept.
Future retail additions include the reintroduction of pizza and a new halal concept in the Reitz Union, as well as the introduction of additional popular national, local and UF-unique brands campus-wide. The Racquet Club will also be renovated with plans to open in 2023. Finally, big plans are underway for a new concept at the former Orange & Brew location.
We invite you to follow us on social media for future announcements.
About the University of Florida
The University of Florida attracts the best and brightest students, staff and faculty, places them together and connects them with world-class resources to spark extraordinary discoveries and innovations. Our momentum is reflected in the university's designation as a top-five public university in the 2022 U.S. News & World Report Best Colleges rankings. Artificial intelligence is a centerpiece at UF, spanning all disciplines so that every student has the opportunity to acquire competence and expertise in AI. This is a place where limitless potential meets boundless opportunity through our teaching, research, scholarship and service to our state, our nation and the world.
About Chartwells Higher Education
Chartwells is the recognized leader in contract food service management, hospitality, and award-winning guest service within over 300 college and university dining environments throughout academic institutions across the U.S. Chartwells' nutritious cuisine not only satisfies the unique appetites, lifestyles, and dietary needs of every guest dining on campus, but it also brings people together to promote the high-intensity relationships that will prepare students for the future. For more information, visit www.ChartwellsHigherEd.com, www.ChartwellsMonthly.com, www.DineonCampus.com.