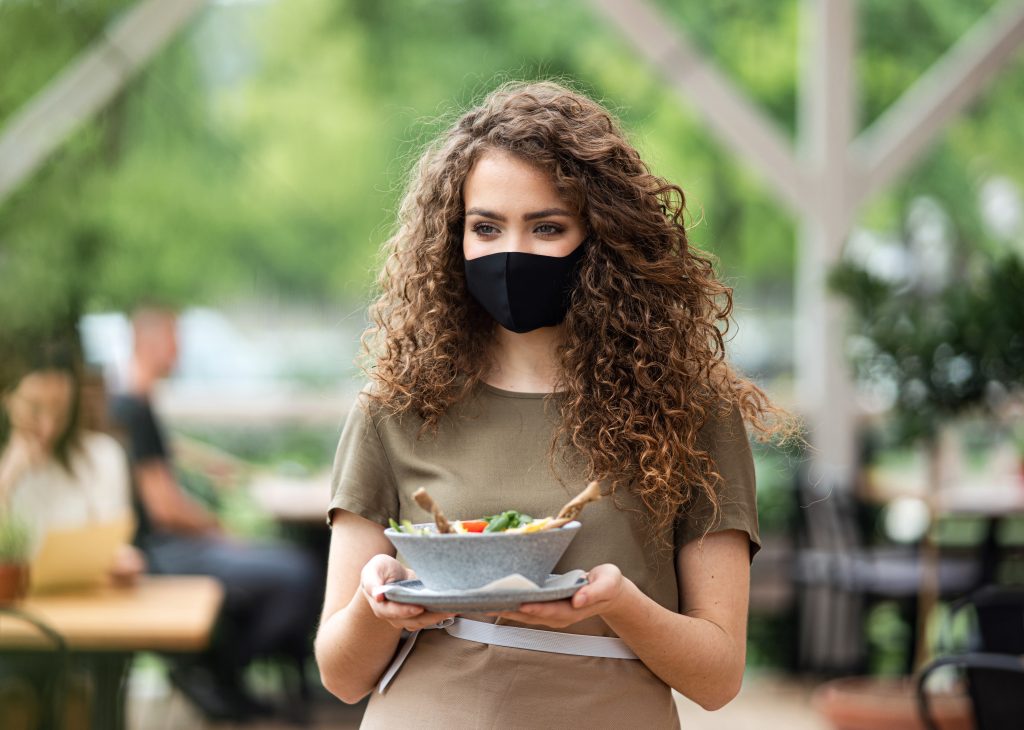 COVID-19 UPDATE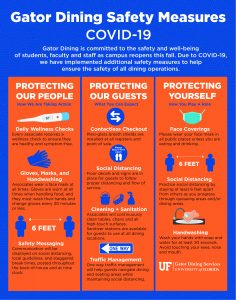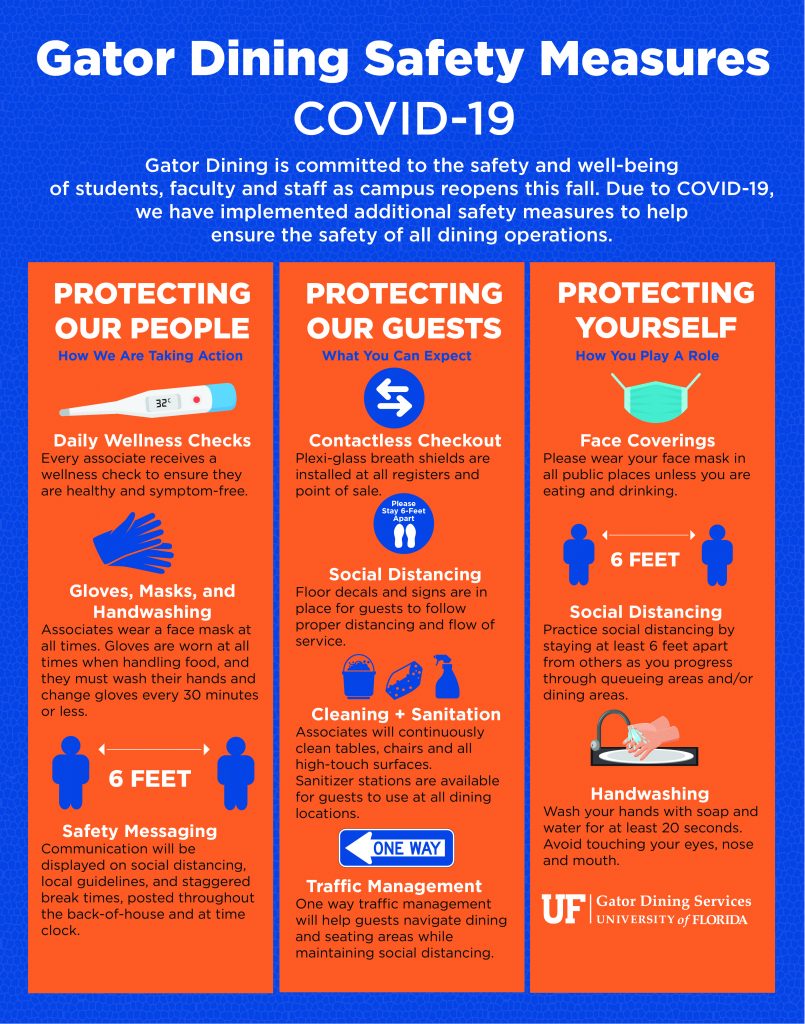 Gator Dining will continue to provide the UF community with a robust dining program while adhering to enhanced safety measures consistent with UF Health and state guidance related to COVID-19. The current plan includes reopening of all locations for the fall semester under normal operating hours, but in adherence to physical distancing and other safety guidelines. The Gator Dining team will monitor operations daily and stay abreast of any changes in guidelines or direction regarding COVID-19 and adjust campus operations accordingly. Fall 2020 meal plan pricing remains the same as Fall 2019 pricing.
The 2021 Spring Meal Plan Change period runs from January 7th to January 13th, 2021. Students can come into the Gator Dining Services office during the grace period to downgrade their meal plan or convert the value of their meal plan to all flex bucks. Students can either downgrade OR convert – not both.  Students have to do this in person at the office, they cannot change online, via phone or email. The Gator Dining offices follow strict social distancing and mask policies.
Gator Dining will adjust operating procedures to meet or exceed recommended UF Health and state guidelines related to COVID-19, in order to provide safe dining spaces and programming for the UF community.
Gator Dining staff have rearranged seating in dining halls to accommodate for social distancing.  Seating will be available on a first come, first served basis. Students will be encouraged to maintain social distancing in addition to wearing a mask or face covering unless eating or drinking.
Please view the list of safety measures taken by Gator Dining.
Gator Dining Services contracts with Aramark as the official food service provider for the University of Florida.  There are over 40 locations on campus, including two residential dining halls and favorite national brands such as Subway, Chick-fil-A, Einstein Bros Bagels, Panda Express, Pollo Tropical, Starbucks Coffee and Moe's Southwest Grill.
Gator Dining Services offers both Meal Plans and Declining Balance Accounts.  Both plans work off a magnetic strip on your Gator 1 Card. Once a plan is purchased, the account will be automatically activated. All account balances will carry over each semester enrolled.
For students, staff and faculty, login here to add value to your card or buy a meal plan.  For parents and spouses, click here to add value to your family member's card or to buy them a meal plan.