Please follow the below instructions to activate your GATORONE card. If you were previously issued a card, activation of this card will disable your prior card. For any questions, please contact gator1card@bsd.ufl.edu or call 352-392-8343.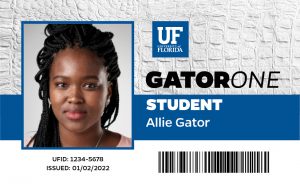 Sign in with your GatorLink user name and password.
Click "Request GATORONE Card."
Click "Activate."
Confirm by clicking "Yes."
The process is now complete and you may close your browser.  Your new card will be ready to use in 15 minutes.