The University of Florida vending services are contracted with and operated by professional vending contractors.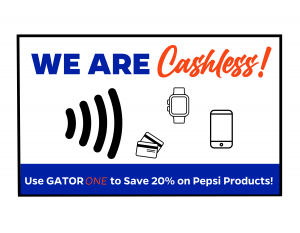 Procedures for obtaining services
All requests to add or remove vending machines on campus must be coordinated and approved by the Business Services Office located next to the GATORONE office on the mezzanine level of the J. Wayne Reitz Union Welcome Center.
Procedure for reporting malfunctioning machines
All problems with malfunctioning machines including mechanical failure; out of stock; coin/currency, credit card or GATORONE acceptance; and loss of funds may be reported online.
Reports of malfunctioning machines may also be made to the Business Services Office at 352-392-7304.
Student vending refunds
Once you enter your vending refund request online, you can receive a refund from the Business Services administration office, located next door to the GATORONE office at the Bookstore Welcome Center on Museum Road. Refunds may be obtained 8 a. m. – 4:30 p.m., Monday through Friday.
For Shands vending machine refunds, go to Morrison Cash Register at Shands Main Hospital Cafeteria.